COMPTIA CYSA+ AUTONOMO
Corso On-Line: CompTIA Cybersecurity Analyst (CS0-003)
Questo corso ufficiale CompTIA mette a disposizione una formazione completamente on-line e pre-registrata, in lingua inglese, per la preparazione in autonomia al CySA+.
CompTIA Cybersecurity Analyst (CySA+) è una certificazione internazionale per professionisti IT che applica analisi comportamentali a reti e dispositivi per prevenire, rilevare e combattere le minacce alla sicurezza informatica attraverso il monitoraggio continuo della sicurezza.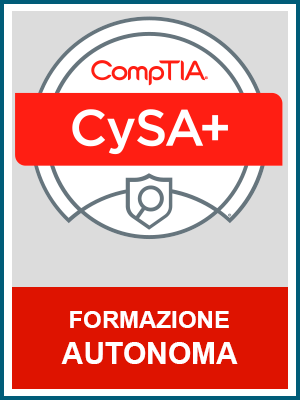 OBIETTIVI DEL CORSO

CySA+ si concentra sulla capacità dei candidati non solo di acquisire, monitorare e rispondere in modo proattivo ai risultati del traffico di rete, ma sottolinea anche la sicurezza di software e applicazioni, l'automazione, la caccia alle minacce e la conformità alle normative IT, che influiscono sul lavoro quotidiano degli analisti della sicurezza.
CySA+ copre le competenze di base più aggiornate dell'analista della sicurezza e le competenze lavorative imminenti utilizzate da analisti di intelligence delle minacce, analisti della sicurezza delle applicazioni, analisti della conformità, risponditori/gestori di incidenti e cacciatori di minacce, introducendo nuove tecniche per combattere le minacce all'interno e all'esterno del Centro operativo di sicurezza (SOC).
CONTENUTI

Il corso elearning autonomo include:

- Slide del corso

- Guida ufficiale CompTIA in formato digitale in lingua inglese

- DB online con gli esercizi ufficiali CompTIA di pratica d'esame

- Accesso per 12 mesi al set di laboratori ufficiali online su piattaforma CompTIA funzionali all'applicazione pratica dei concetti e alla preparazione dell`esame.

Il programma del corso include:

Parts I: Threat Management

- Cybersecurity Analysts

- Cybersecurity Roles and Responsibilities

- Frameworks and Security Controls

- Risk Evaluation

- Penetration Testing Processes

- Reconnaissance Techniques

- The Kill Chain

- Open Source Intelligence

- Social Engineering

- Topology Discovery

- Service Discovery

- OS Fingerprinting

Parts II: Threat Management

- Security Appliances

- Configuring Firewalls

- Intrusion Detection and Prevention

- Configuring IDS

- Malware Threats

- Configuring Anti-Virus Software

- Sysinternals

- Enhanced Mitigation Experience Toolkit

- Logging and Analysis

- Packet Capture

- Packet Capture and Monitoring Tools

- Log Review and SIEM

- SIEM Data Outputs

- SIEM Data Analysis

- Point-in-time Data Analysis

Parts III: Vulnerability Management

- Managing Vulnerabilities

- Vulnerability Management Requirements

- Asset Inventory

- Data Classification

- Vulnerability Management Processes

- Vulnerability Scanners

- Microsoft Baseline Security Analyser

- Vulnerability Feeds and SCAP

- Configuring Vulnerability Scans

- Vulnerability Scanning Criteria

- Exploit Frameworks

- Remediating Vulnerabilities

- Analysing Vulnerability Scans

- Remediation and Change Control

- Remediating Host Vulnerabilities

- Remediating Network Vulnerabilities

- Remediating Virtual Infrastructure Vulnerabilities

- Secure Software Development

- Software Development Life Cycle

- Software Vulnerabilities

- Software Security Testing

- Interception Proxies

- Web Application Firewalls

-Source Authenticity

- Reverse Engineering

Parts IV: Cyber Incident Response

- Incident Response

- Incident Response Processes

- Threat Classification

- Incident Severity and Prioritisation

- Types of Data

- Forensics Tools

- Digital Forensics Investigations

- Documentation and Forms

- Digital Forensics Crime Scenes

- Digital Forensics Kits

- Image Acquisition

- Password Cracking

- Analysis Utilities

- Incident Analysis and Recovery

- Analysis and Recovery Frameworks

- Analysing Network Symptoms

- Analysing Host Symptoms

- Analysing Data Exfiltration

- Analysing Application Symptoms

- Using Sysinternals

- Containment, Eradication, and Validation Techniques

- Corrective Actions

Parts V: Security Architecture

- Secure Network Design

- Network Segmentation

- Blackholes, Sinkholes, and Honeypots

- System Hardening

- Group Policies and MAC

- Endpoint Security

- Managing Identities and Access

- Network Access Control

- Identity Management

- Identity Security Issues

- Identity Repositories

- Context-based Authentication

- Single Sign-On and Federation

- Exploiting Identities

- Exploiting Web Browsers and Applications

- Security Frameworks and Policies

- Frameworks and Compliance

- Reviewing Security Architecture

- Procedures and Compensating Controls

- Verifications and Quality Control

- Security Policies and Procedures

- Personnel Policies and Training
ESAME:

Il corso prepara a sostenere l'esame CompTIA CySA+ (CS0-003) accreditato ANSI.
L'acquisto dell'esame comprende il voucher Pearson Vue.

PREZZO ESAME:
350,00 € + IVA