CPENT - CERTIFIED PENETRATION TESTER - AUTONOMO
Corso online: Certified Penetration Tester - CPENT di EC-Council
Questo corso ufficiale EC-Council mette a disposizione una formazione completamente on-line e pre-registrata, in varie lingue tra cui l'inglese, per la preparazione in autonomia al CPENT.
Il Corso CPENT Certified Penetration Testing è un corso tecnico-pratico ufficiale EC-Council di certificazione per professionisti della sicurezza informatica esperti, finalizzato a eseguire un Penetration test efficace in un ambiente di rete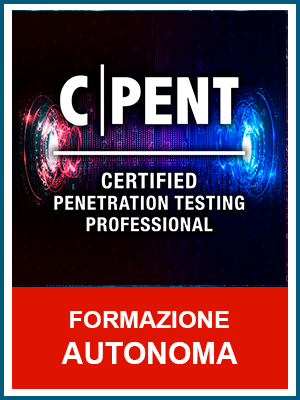 OBIETTIVI DEL CORSO

Il programma Certified Penetration Tester (CPENT) di EC-Council è incentrato sul pen test ed insegna a eseguire, in un ambiente di rete aziendale, un attacchi ,nonchè a eluderli o a difenderli. Sono previsti Pen-test di sistemi IoT, sistemi OT, scrittura di exploit, costruzione di strumenti, per poter accedere a reti nascoste e personalizzazione di script ed exploit per entrare nei segmenti più interni della rete
CONTENUTI

Il corso include:
- Moduli di formazionepre-registrati (accesso per 1 anno)
- materile didattico diigitale ufficiale (accesso per 1 anno)
- CyberQ Labs (accesso per 6 mesi)
- Certificato di completamento
- Voucher d'esame

Struttura del corso:
- Introduction to Penetration Testing
- Penetration Testing Scoping and Engagement
- Open Source Intelligence (OSINT)
- Social Engineering Penetration Testing
- Network Penetration Testing – External
- Network Penetration Testing– Internal
- Network Penetration Testing – Perimeter Devices
- Web Application Penetration Testing
- Wireless Penetration Testing
- IoT Penetration Testing
- OT/SCADA Penetration Testing
- Cloud Penetration Testing
- Binary Analysis and Exploitation
- Report Writing and Post Testing Actions

DESTINATARI

Il corso è stato pensato per Penetration Tester, Security Analyst, e per tutti coloro che ambiscono a ricoprire tali posizioni lavorative.
ESAME:

Il corso prepara a sostenere l'esame CPENT di EC-COUNCIL
Il costo del corso include il voucher d'esame Pearson Vue.
CPENT è un esame pratico completamente online e controllato da remoto che sfida i candidati attraverso un estenuante esame pratico di 24 ore basato sulle prestazioni. L'esame è suddiviso in 2 esami pratici di 12 ore ciascuno che metteranno alla prova la tua perseveranza e concentrazione costringendoti a superarti con ogni nuova sfida. I candidati hanno la possibilità di scegliere tra 2 esami da 12 ore o un esame da 24 ore